This Rich Chinese Guy Traveling With 8 Robot Maids Is Redefining Luxury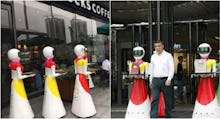 Subtly flashing your rolex, slipping in a mention of your private jet, surfacing in the Panama Papers leak... these are all methods to flaunt your wealth. But why approach with subtlety when you can roll up to a store with an entourage of robots? 
That's exactly what Wang Shi Chung, a Chinese man reportedly part of "China's nouveau riche circle" did last Thursday, Mashable reported. The human honcho was photographed in Guangzhou, China, flanked by eight robots, each dressed as a maid and holding a tray.
The maid robots accompanied the man to a jewelry store and stood behind him holding water, a towel and a coat while he browsed "gold products", Ejinsight reported. When he left, his flashy infantry "followed quickly behind him." They also accompanied him to an outdoor eating area and through a parking garage. 
Humanoid robots aren't cheap — emotion-sensing robot Pepper costs around $1,600 plus monthly data and insurance fees, CNN reported.
Apparently money can buy you friends.