Kylie Jenner Used the Bob Marley 420 Filter and People Are Calling Her Out for It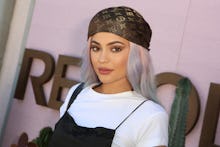 Kylie Jenner is in hot water for using a Bob Marley filter on Snapchat in honor of 420 — or April 20 — the de facto Marijuana Day.
She posted an 11-second video in which she informatively says, "420. Yas, bitch, yasss." But both Snapchat and those using the filter are being accused of promoting an electronic form of blackface. 
Read more: 420-Inspired Must-See Looks From the 2016 US Cannabis Cup
"The filter is a form of blackface, cultural appropriation, and totally problematic. ... It is offensive. This is a caricature of a black person," South Africa's Daily Vox said. 
"Snapchat is reducing the legacy of a musical great to smoking weed," it later added of the filter, which was released on 420. 
This isn't the first time Jenner has stirred controversy. She recently pissed off a number of people after taking credit for wigs.
"I started wigs, and now everyone is wearing wigs. Kim [Kardashian West] just used my wig guy last night ... I just do whatever I want to do, and people will follow," she told Marie Claire for their annual Fresh Faces issue, published April 10.
And, on the subject of hair, she was also accused of cultural appropriation after sporting cornrows in August 2015. Her plump lips have generated similar accusations of cultural appropriation by fetishizing a feature commonly associated with black people.
Yet, this doesn't appear to give Jenner much pause because, well, she does what she wants and people will follow.