Rainbow Coffee Could Be the Bright New Way to Start Your Mornings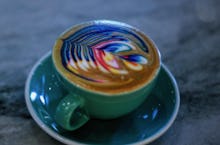 The end of the rainbow is nowhere near — the trend of dyeing things rainbow has now infiltrated your morning cup of Joe. 
On Instagram, the now-viral rainbow coffee is the work of Mason Salisbury from Sambalatte in Las Vegas, according to Cosmopolitan. To get the rainbow effect, Salisbury adds food coloring after steaming the milk. 
Read more: This Rainbow Grilled Cheese Is the Sandwich Your 5-Year-Old Self Always Wanted
According to one of his posts, the dye serves to actually help him with his latte art technique by allowing him to see how his pours go.
While some people find the colorful coffee "amazing" and "stunning," others are sick and tired of foods rainbow-fying themselves and just want their coffee to remain pure.
"Rainbow coffee, rainbow bagels, rainbow cheese.... Wtf is wrong with normal food," one Facebook user wrote. "Are we now getting bored already with all the cooking shows?!"
Still, to some, the rainbow coffee is a "coffee dream" come true. 
So, would you like a rainbow coffee with your rainbow bagel?