Voters Paid Tribute to Susan B. Anthony by Decorating Her Grave With "I Voted" Stickers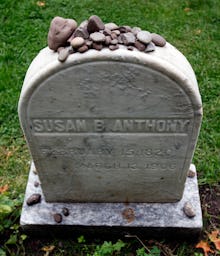 As millions of New Yorkers headed out to the polls yesterday, a select few capped off their day of civic duty with a trip to Rochester, New York's Mount Hope Cemetery to decorate the headstone of suffragist Susan B. Anthony with "I voted" stickers.
Though Anthony spent her life agitating for women's suffrage, she died in 1906, 14 years before the passage of the 19th Amendment, which gave women the right to vote.
Rochester residents have been partaking in the ritual of adorning Anthony's grave with stickers for a few years now as a sign of respect for her life's work, according to Rochester's city press officer Jessica Alaimo.
"People want to honor Susan B Anthony; we're very proud of our history, and this is one way people honor her legacy," Alaimo said in a phone interview Wednesday.
Alaimo said that the stickers had not damaged the headstone, and that they were gently removed by maintenance workers shortly afterwards.
Anthony might be heartened to know that the only female candidate in the presidential election, Hillary Clinton, cruised to victory in her home state's primary on Tuesday night — and that nearly 54% of all of Tuesday's voters were women.