Twitter Had All the Best Reactions to U.S. Treasury Putting Harriet Tubman on $20 Bill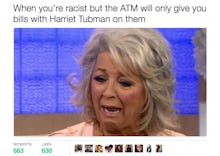 The U.S. Treasury announced Wednesday that Harriet Tubman, a black woman who led hundreds of slaves to freedom on the Underground Railroad, will replace Andrew Jackson, a white former president who killed or displaced thousands of Native Americans, on the $20 bill.
Here are some of the best responses from Twitter users:
Some made the most of evocative imagery.
Others pondered what this news meant for the future.
Some looked back at the past.
Others felt outright complicated about the whole thing.
Plenty had jokes.
But at the end of the day, one thing seemed certain.