Jennifer Aniston, 'People' Magazine's Most Beautiful Woman, Reveals Her Health Regimen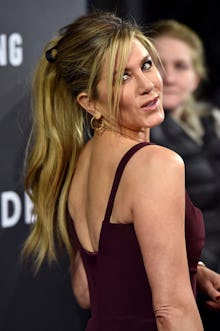 Jennifer Aniston is gracing the cover of People magazine's "Most Beautiful Woman 2016" issue, on newsstands this Friday. In her feature story for the publication, the actress opened up about maintaining her body and healthy lifestyle.
Not surprisingly, the relatable Aniston admits she, too, gets tired of her workout routine, and occasionally falls off the health wagon. When asked whether she gets bored of working out, Aniston replied, "Of course... It's when I take breaks and then I get back into it, that's when it's hard. But once I'm back into it, I love it and I crave it."
The 47-year-old not only has an impressive career throughout her time in Hollywood, but she has also managed to stay in peak physical shape for decades. She owes it to a pretty simple routine generally anybody can employ in their own lives. 
Aniston told People she typically spends an hour a day, three days a week, in a spin and yoga class. That course is about 25 to 30 minutes of cycling, with the remaining 30 to 40 minutes spent practicing yoga. Three other days of the week the actress isn't attending those spin classes, she said she does a workout at home involving weight-training — or, she just does a bit of cardio, depending on whatever mood she's in at the time. 
"It's basically just using my own body weight," Aniston told People about her at home routine. "I usually do a trifecta. Fifteen minutes on the bike, 15 on the treadmill running and then 15 on the elliptical. You have to shake it up, you know, muscle confusion."
People magazine's full interview with Aniston arrives Friday. 
Read more: Here's Why Everything but a Healthy Lifestyle Is BS for Weight Loss