This 'Game of Thrones'-Themed Feast Is Exactly What You Need Ahead of the Season Premiere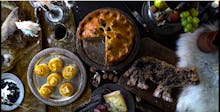 The season premiere of Game of Thrones might as well become a national holiday at this point, with its 20-million-plus viewers last season. Sure, that's not as much as the Super Bowl, but if sports fans enjoy the game with their customary food staples like wings and beer, the weekly Thrones pilgrimage deserves an equally delicious spread. 
Certainly, a pint of ale would be worthy in the world of Westeros as well, but Bon Appétit has created a true-to-source set of Thrones-themed dishes that are worth checking out. It's not just A Feast for Crows, anyone could find solace in their tasty offerings. 
Read more: How to Make a 'Harry Potter'-Inspired Cauldron Cake That'll Bring the Magic
Direwolf Bread: Direwolves are awesome in their own right, but while they'll never make a household pet — because they don't exist — Direwolf Bread is a fine substitute. In the spirit of the bread Hot Pie (Ben Hawkey) baked for Arya (Maisie Williams), the Direwolf Bread not only looks like the original, but is beer-infused to boot. You can check out the full recipe here.
Ceremonial "Pigeon" Pie: It doesn't feature pigeons, but chicken. However, aside from that, the pie is a re-creation of the same impressive size as the one from Joffrey (Jack Gleeson)'s wedding. Just make sure the wine isn't poisoned, and you'll probably survive the meal. Check out the recipe here. 
Sansa's Lemon Cakes: Lemon cakes are her favorite, and just as they are in the series, they're topped off with candied lemon slices. Moreover, there is a darker version of the dessert available, in light of Sansa (Sophie Turner) dyeing her hair at the end of season four. You can go through both iterations of the recipe here. 
Bon Appétit also released a video of their hunt for the food items across New York City, which you can check out below. It goes without saying, but be sure to catch the season six premiere of Game of Thrones this Sunday. 
h/t Bon Appétit