How to Spend Only $5 on Work Lunch Every Day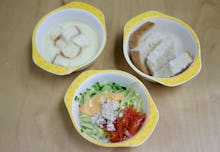 If you haven't already noticed, going out for lunch has become something of a treat in many cities. While a cup of coffee costs nearly five bucks in some places nowadays, a salad or sandwich can have you swiping yourself into debt. But fear not, some great visionaries have proven it is, in fact, possible to live and eat on a budget — just ask Elon Musk. 
The CEO and entrepreneur has said living off a $1-per-day food budget is partly what inspired him to follow his dreams, and become the global leader in technology he is today, according to Business Insider. Meanwhile, plenty of people who aren't looking to land on Mars have also tried cutting their food budgets to incredible lengths and succeeded, living comfortably throughout.
Here are ways to spend less on lunch everyday without starving or being sad about life.
Always Keep Leftovers
In order to maintain a budget for lunch under five bucks a day, it's vital to cook nearly every single meal at home. While it's tempting to order from your favorite restaurant underneath your office, those daily purchases will add up quicker than you think. Instead, focus on cooking healthy, hearty meals, and you can store leftovers in a tupperware container for the next day.
Buy Groceries in Bulk 
"It's cheaper, it's fresher and it often offers the best variety in pantry staples: Shopping in the bulk food aisles is becoming increasingly popular, with more and more grocery stores offering larger sizes or expanding their existing selection," Sara Bir wrote for Today. "Bulk foods also require less packaging and are more efficient to ship, so they have a pleasingly green aspect too." 
Preparing grocery lists within specific budgets will allow you to prioritize what food items will keep you healthy and your wallet happy. 
Pair Food With Free Snacks for Delicious Desk Meals
Nowadays, many startups and traditional workplaces offer a variety of free snack options to choose from while getting through the daily grind. Employees often overlook these as more than just tiny treats; they could instead be used as secret ingredients for delicious office lunches.
Pro-tip: Instead of hitting a restaurant during your lunch break, check out the closest grocery instead. Bring some ingredients from home ahead of time, like bread or the makings for a salad. Purchase an avocado, some peppers or other cheap favorites. Pair those with some office chips, as well as any other ingredients you can find in your office kitchen, and combine them to make a bomb guacamole, mixed salad or even toast with a homemade spread. 
Your co-workers will think you're a genius for creating a food option nobody has thought of, and your credit card will thank you for saving it from climbing debt.
Read more: 8 Healthy Lunch Ideas That Won't Break the Bank