The Best Part of 'Silicon Valley' Is What It Gets Wrong About the Real Silicon Valley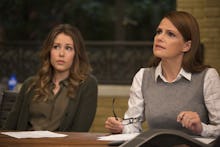 The fictitious companies presented in HBO's Silicon Valley unsurprisingly mirror their real-life counterparts in many ways. The tech giant Hooli is the show's direct nod to Google, while the company created by Richard Hendricks (Thomas Middleditch), Pied Piper, follows the trajectory of a tech startup like GitLab or Lily Robotics. Yet the series strays away from the tech world in one distinct aspect: diversity.
What has continued to plague the real Silicon Valley is a notable lack of diversity in the field. According to data obtained from the Department of Labor — as reported by Mother Jones — the tech-heavy jobs are staffed by a workforce made up of 83% men. 94% of those men are either white or Asian. Similarly, the majority of those in executive leadership roles are white males, including 10 of the 11 senior executive members of Apple, according to Mashable.
HBO's Silicon Valley's creators and producers acknowledge that they need to find a balance between a realistic, satirical take on the tech culture and being inclusive. One way it has been able to do this is through its writing staff, which has featured four women and three people of color, as well as recruiting two outside directors, both of whom have been women.
"That is an ongoing discussion, the world that we're depicting is fucked up, but do we have the responsibility to make the gender and racial balance on our show ideal when the world that we're depicting isn't?" producer Alec Berg said during a panel at SXSW in March.
Ironically, even though they've been on record about limiting people of color and women on the show to reflect the industry, the series has actually featured several compelling characters to break the mold. At the onset of season two, it introduced the eccentric Laurie Bream (Suzanne Cryer) as the new head of the company initially funding Pied Piper, alongside the already introduced Monica (Amanda Crew).
Moreover, its best — and most direct — jab at the tech world was when Pied Piper began to expand and bring in more members to the team. There, they interviewed Carla (Alice Wetterlund), a cyber-gothy programmer with an impressive resume. Yet Jared (Zach Woods) focused on how she isn't just qualified for the job, she's also a woman.
"We want to hire the best people who happen to be women, regardless of whether or not they are women," Jared says. "That part is irrelevant." The scene hits its comedic mark by showing the awkward doublespeak that a corporate culture can use in the hopes of diversifying, by incessantly highlighting gender.
The show also rarely pays attention to its characters' ethnicities. When it does, however,  it attempts to subvert the audience's expectations — like when the team received a letter from Immigration Services. The show could've easily pointed an immigrant joke at the only member from the core Pied Piper team who is a person of color, Dinesh (Kumail Nanjiani). Instead, the letter from Immigration Services is for Gilfoyle (Martin Starr), a white Canadian.
Broadly, the show features a promising mix of women and people of color, and will introduce at least one major female character in season three: to-be tech blogger C.J. Cantwell (Annie Sertich). The HBO series features six women and five characters of color among 18 total characters featured prominently — in our definition, characters who had significant roles in the episodes they starred in. Looking at these numbers proves the HBO series is doing better than the real Silicon Valley.
While these numbers are promising relative to the industry it parodies, the show still has a lot of work to do. Not all of its diverse characters are given the same creative freedom and range as the likes of Monica, Carla and Dinesh. Notably, an Asian member of Erlich (T.J. Miller)'s house, Jian Yang (Jimmy O. Yang), is basically a running gag of Chinese stereotypes. His broken English and lack of understanding of American culture are constantly derided, and the quips rarely pack a comedic punch. It's poor, lazy writing on behalf of a staff that typically creates a cleverly scripted show.
That's predominantly what Silicon Valley is: a snarky, meticulously crafted comedy. It places tremendous attention to detail to reflect the real tech world, going so far as to have researchers from Stanford University verify the mathematics for its most infamous penis scene. If that same consideration can be transposed to acquire more diverse, innovative characters in season three and beyond, that would be the show's most powerful slight to the industry.