See 4 Stunning Photographs of Refugees That Just Won the Pulitzer Prize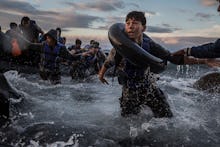 Four New York Times photographers were awarded the Pulitzer Prize for breaking news photography on Monday. Their work catalogues the travails of refugees fleeing from the Middle East to Europe. 
The Times shared the prize with the photography staff of Thomson Reuters for its own coverage of the migrant crisis.
Daniel Etter, Tyler Hicks, Mauricio Lima and Sergey Ponomarev took the 18 collective photographs honored, which, the Pulitzer website said, "captured the resolve of refugees, the perils of their journeys and the struggle of host countries to take them in."
"What makes this entry so important is it really gives the full arc of mass migration and also shows the individual suffering," the New York Times international picture editor and assigning editor for the photographers, David Furst, said on the newspaper's Lens blog. 
With the exception of Hicks, who won a Pulitzer in 2014, this is the first time the photographers have received the prestigious award.
The image captions describe a Turkish boat owner who helped refugees get to Greece (and was subsequently arrested) and a father protecting his young child from tear gas while they run away from riot police. 
The photographs have provided a window into the personal cost of the refugee crisis, telling individual stories on a subject that's often seen through a macro lens. 
Times director of photography Michele McNally said the international assortment of the photographers — "a Russian, a Brazilian, an American and a German" — helped provide kaleidoscopic perspective that would have otherwise not been there. 
"I've been a photo editor for a long time, and this story is important to me because it affects the entire world: America, Europe and the Middle East," McNally said, according to the Lens blog. "It affects everyone, including you and me."