Calls to the Trans Crisis Hotline Have Nearly Doubled Since North Carolina Passed HB2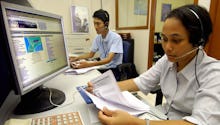 Since the passage of a law that bans transgender individuals from using the bathroom that they identify with, calls to one trans-focused North Carolina crisis hotline have "nearly doubled" according to the service's co-founder.
In an interview with the Daily Beast, Trans Lifeline Executive Director Greta Gustava Martela said that since North Carolina Governor Pat McCrory signed HB2 into law, which also blocks local municipalities from passing anti-discrimination ordinances, phones at the hotline have been ringing off the hook. 
Martela said that prior to April 2016, the record for the most incoming calls in a day had been about 200. On April 13, Trans Lifeline received 357 calls — a number she called "unprecedented."
Although she said that springtime generally sees an upswing in the number of calls the hotline receives, Martela said the volume could possibly be explained by the new pressures facing the country's transgender community. 
Suicide has long been a problem plaguing the transgender community. 
According to a January 2014 National Transgender Discrimination Survey by the American Foundation for Suicide Prevention and the Williams Institute, 41% of respondents had attempted suicide, more than double the 10 to 20 percent of lesbian, gay and bisexual adults who report attempts on their own lives.
Trans Lifeline can be reached at 877-565-8860. 
Read more: NC Trans Student Says College GOP Threatened Her, Called Her a "Mentally Ill" "Freak"