8 Things Harriet Tubman's Obituary Writer Forgot to Include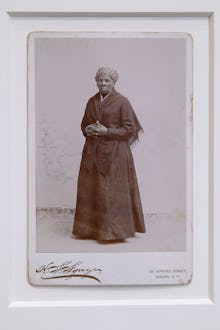 Wednesday's news that Harriet Tubman would be replacing former President Andrew Jackson on the front of the $20 bill has launched the abolitionist hero back into the spotlight. 
With Tubman about to be honored by having her face in Americans' wallets, it's easy to think that this is just another in what must have been a long string of honors for a much-lauded star of American history. But, the truth is, when Tubman died in her 90s in 1913, her death merited only a 132-word obituary on page nine of the New York Times — and a significant amount of the space is devoted to naming her male contemporaries.
Harriet Tubman Davis, an ex-slave, known as the "Moses of her people," who before the civil war took 300 slaves to Canada through her "underground railroad," died on Monday night at the home she founded for aged and indigent negroes at Auburn, N.Y. She was said to be 98 years old, and her death was caused by pneumonia.
Tubman's real achievements, however, go on for pages. It seems that whoever wrote her obituary omitted a few things — like some basic biographical facts.
Tubman was born in Maryland "around 1820," according to a project by WGBH for PBS, as Araminta Ross, and later changed her name to Harriet.
But there are a wealth of other, more substantial details that belong in Tubman's final tribute.
1. She was born into slavery and suffered lifelong physical trauma due to an abusive overseer. 
According to the Civil War Trust, when she was a child, Tubman was "hired out" and forced to labor for people who "proved to be particularly cruel and abusive to her." When she was a teenager, "Tubman blocked a doorway to protect another field hand from an angry overseer," according to WGBH, and was struck on the head, leaving her with a permanent head injury. She would have seizures, headaches and "unexpected episodes of narcolepsy," according to the National Women's History Museum, for the rest of her life.
2. She had to leave her family behind when she escaped. 
In 1844, Tubman married a free man, John Tubman. About five years later, amid fears that she and her family were about to be sold and separated, she began planning an escape.
Eventually she left, by herself, and fled to Pennsylvania in 1849 via the Underground Railroad, a network of anti-slavery activists. According to PBS' God in America, Tubman later said of her first moments of freedom, "When I found that I crossed that line, I looked at my hands to see if I was the same person. There was such glory over everything; the sun came like gold through the trees, and over the fields, and I felt like I was in heaven."
3. She risked capture repeatedly, returning to Maryland at least 13 times.
Tubman would go on to risk re-enslavement again and again, returning to Maryland first to rescue members of her own family, and then to lead groups of enslaved people to free states. In total, she completed 13 freedom missions and rescued about 70 people, using, God in America reported, "an arsenal of deceptive tactics and tricks" to remain undercover.
4.  She is said to have once jumped into action to save a fugitive slave, risking her own life.
According to 1869 biography Scenes from the Life of Harriet Tubman, while passing through Troy, New York, Tubman saw Charles Nalle, an escaped slave, being beaten by police officers. The story goes that she pulled them off of Nalle, saving his life, enduring beatings by the officers in the process.
5. She was part of one of the most famous slave revolts in history.
Tubman helped abolitionist John Brown plan his raid on Harpers Ferry. She also worked for the Union Army during the Civil War in many roles, including as a spy, and led soldiers and scouts in a raid that freed 700 enslaved people, according to God in America. Tubman was never paid for her service to the Union Army.
6. She married twice. 
Tubman's second husband was Civil War veteran Nelson Davis, who was about 22 years younger than she was. The two lived in Auburn, New York, together with an adopted child, according to God in America.
7. She was part of the early women's rights movement. 
Tubman became an active member of the women's suffrage movement, working with Susan B. Anthony.
8. She never became rich. 
Despite her accomplishments, Tubman remained so poor that she once had to sell a cow to afford a train ticket to Boston to attend receptions in her honor, according to God in America.
As WGBH reported, Tubman once told fellow abolitionist Frederick Douglass, in her many trips to rescue people who were enslaved, she "never lost a single passenger."