White Americans' Life Expectancy Is Dropping Because of Drug Overdoses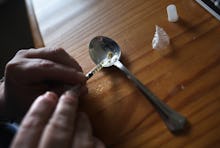 Yet again, America's drug abuse problem takes its toll.
White Americans' life expectancy declined slightly in 2014, according to federal data reported in the New York Times, dropping from 78.9 years in 2013 to 78.8 years in 2014. 
The reason: Rising numbers of white Americans are dying of drug overdoses, particularly among those in their mid-20s to mid-50s. Liver disease and suicide have also reportedly played a role in white Americans' stagnating life expectancies in recent years.
"The increase in death in this segment of the population was great enough to affect life expectancy at birth for the whole group," Elizabeth Arias, a statistician at the National Center for Health Statistics, said, according to the Times. "That is very unusual."
Unusual, but not surprising: Drug overdose deaths are on the rise, according to the National Institute on Drug Abuse. Its site offers data on overdose deaths, for a variety of drugs, between 2001 and 2014. 
For heroin, benzodiazepines, opioid painkillers and other prescription drugs, overdose deaths were higher in 2014 than they were in any other year.
Meanwhile, life expectancy among other demographics went up. Black Americans' expected lifespan rose from 75.5 years to 75.6 years, according to the Times, while Hispanic Americans' rose from 81.6 to 81.8.
Overall, life expectancy among all Americans is 78.8.