The Miss USA Pageant Is Looking For a 52nd Contestant — And It Could Be You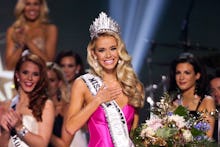 The Miss USA pageant is conducting an unconventional search for a 52nd contestant that gives a wider pool of women than ever before a shot at the nation's top crown.
The competition will cull through social media entries to find "Miss 52 USA," who will join the existing 51 contestants onstage during the June 5 contest. 
In a Facebook video featuring Miss USA 2015 Olivia Jordan, the search is said to be open to all "eligible women from across the U.S." interested in applying.
"Miss USA is not afraid to push the envelope. She is strong, she is determined, she is confident," Jordan says. "No matter your size, shape or background, this is your chance to show the world what makes you beautiful."
According to the official rules, eligible entrants are over 18 and under 27 as of January, have never been married or had a marriage annulled, are not the legal guardian of any adult or minor and are "recognized medically and legally as a female in the United States."
Paula M. Shugart, president of the Miss Universe Organization, said the competition is striving to be more inclusive. 
This year's pageant will mark the first since the organization was acquired by IMG/WME. In the wake of comments made by Donald Trump suggesting that Mexicans were rapists, Univision cut ties with the franchise — which it had previously jointly owned with Trump — in protest. 
"Our competitions celebrate women from all backgrounds and with finding Miss 52, we hope to inspire more women to step out of their comfort zones and experience the amazing opportunities our organization offers," Shugart said.
For those interested in applying, more information on the contest is available here.