Groundbreaking Installation '6x9' Uses VR to Simulate the Perils of Solitary Confinement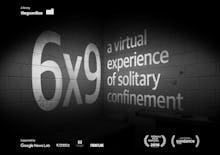 More than 80,000 people in the United States are in solitary confinement. It's a statistic Guardian journalist Francesca Panetta thought merited more than just a headline. Along with co-producer Lindsay Poulton, she set about creating "6x9: An Immersive Experience of Solitary Confinement," a virtual reality piece at this year's Tribeca Film Festival that puts viewers, quite literally, in the shoes of those experiencing what the UN calls torture.
Read more: How "The Whiteness Project: Intersection of I" Makes White People Grapple With Privilege
At Tribeca's "Storyscapes" exhibit, Panetta and Poulton worked with the Mill, a visual effects studio, to erect a 6-by-9-foot mockup of the type of cell where prisoners in solitary confinement spend 23 hours of their day. Compared to the real thing, the glossy white interiors with orange accents of this "cell" are almost inviting — an Ikea-like model cell that hopes you check it out. But once the VR headset and accompanying headphones are on, any sense of comfort disappears.
6x9 puts viewers in a digital replica of a cell. At first, it's an exploratory mission. The viewer's eyes go everywhere. But not even a minute in, one cannot help but realize there's not much to look at. As testimonials of former inmates who have experienced life in these cramped spaces begin playing, 6x9 offers matching visual cues.
The film shows that an early strategy for coping with solitary confinement is focusing on happy memories, images of smiling families and fun rollercoasters, images which project themselves onto the walls. But these hopeful visions soon disappear, leaving participants alone in the room, thoughts scribbling themselves all over the walls.
This claustrophobic vision presented highlights the way 6x9 traps its viewers in a very material sense, locking them in, a temporary (and obviously illusory) replica of what solitary confinement feels like. Even as the viewer tries to make sense of what one is experiencing, 6x9 pushes toward discomfort, at one point blurring the viewer's sight and shifting the perspective in overtly nausea-inducing ways.
But it's the sounds that make 6x9 all the more powerful. While the images look very obviously like a digital reproduction (one could never mistake it for the real thing), the sounds are what sell the effect. From the haunting testimonials to the background noise — taken from the Frontline documentary Solitary Nation, which looked into how the intense noise that populates these prison spaces adds to its discomfiting atmosphere — the soundscapes here immediately show how such confinement would fray anyone's nerves and psychologically scar those within their walls.
The exhibit comes on the heels of an increased national conversation around the issue of solitary confinement. In a powerful op-ed in January in Washington Post, President Barack Obama wrote about the need for judicial reform, arguing that we need to rethink solitary confinement:
The United States is a nation of second chances, but the experience of solitary confinement too often undercuts that second chance. Those who do make it out often have trouble holding down jobs, reuniting with family and becoming productive members of society. Imagine having served your time and then being unable to hand change over to a customer or look your wife in the eye or hug your children.
Obama's impassioned plea, which echoed similar arguments made by Pope Francis and Supreme Court Justice Anthony Kennedy, among others, was yet another example of how the issue is reaching a tipping point.
Following on the heels of Solitary Nation, Kristi Jacobson's HBO documentary Solitary (shot over a year in Virginia's Red Onion State Prison) will also be screening at Tribeca, making prison reform an unavoidable subject matter for festivalgoers. Hopefully, these projects push the issue onto the political conversation this election year, especially given the complex ways in which the presidential hopefuls have talked and legislated on the issue in the past.
But while activist-driven documentaries have long made a name for themselves in championing social justice causes, 6x9 is a perfect example of VR technology's journalistic and activist potential. In embodying its own argument about the mental and physical toll that solitary confinement takes on people, Panetta and Poulter have managed to push beyond statistics and testimonials to produce a powerful experience that embraces what might be the most powerful political tool in our arsenal: our own empathy.
April 21, 2015, 11:05 a.m.: This story has been updated.