Donald Trump's Family Is Auctioning off an Internship and It'll Only Cost $42,500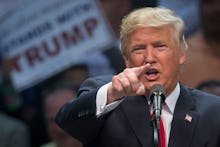 Still lining up plans for the summer? Consider this: a 10-week paid internship answering phones, running errands and greeting "high-net worth individuals" for the Trump family. 
The Trumps are auctioning off the internship on Charitybuzz and will announce the winner on April 28. So far only two bids have rolled in, but anyone who wants a fighting chance has to be prepared to shell out at least $42,500 — the minimum bid to edge out the current highest bidder. The estimated value of the internship is $100,000, the proceeds of which will go to St. Jude Children's Research Hospital.
Aside from having a fat wallet, bidders must be enrolled in an accredited college — in other words, not Trump University — with at least a 3.0 grade-point average. 
Read more: This Donald Trump Micropenis Portrait's New Home Is a Sick Burn to the GOP Frontrunner
For those who imagine a bowing-and-scraping Devil Wears Prada-like experience, the Trump family is guaranteeing some perks. Over the course of the internship, the winning intern (Trump doesn't like losers) has the chance for 15-minute sit-downs with Donald Trump Jr., Ivanka Trump and Eric Trump to "pick their brains about how to be successful in the real estate & business world."
When 22-year-old comedian Elijah Daniel wrote a 10-page erotic novella in January imagining an internship at Trump Tower, the perks were, er, a little different. It's probably for the best: Aside from those who briefly catapulted Daniel's Trump Temptation to Amazon's best-seller lists, few people imagine their "loins trembl[ing]" at the "scent of toupee adhesive and spray tan."
h/t New York Post