Who's Going to Be on the New $5 Bill? America's Champions of Equality to Be Featured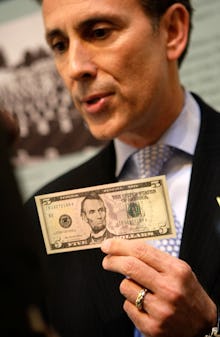 After it was announced on Wednesday morning Harriet Tubman would become the next face of the $20 bill, Treasury Secretary Jacob J. Lew announced Martin Luther King Jr., Eleanor Roosevelt and Marian Anderson will be featured on the back of the United States' new $5 bill. 
Secretary Lew also announced leaders in the women's suffrage movement will be displayed on the backside of the new $10 bill, including Lucretia Mott, Sojourner Truth, Elizabeth Cady Stanton, Alice Paul and Susan B. Anthony, with Alexander Hamilton remaining on the front of the bill. 
A wave of criticism surfaced online immediately following the announcement of Tubman's portrait being chosen as the next face for the $20 bill. Secretary Lew chose leaders who partook in several monumental political and societal movements for each bill, while maintaining some resemblance to the current bills in production. 
"The reverse of the new $20 will depict the White House and an image of President Andrew Jackson," according to a note from the U.S. Treasury Department. A number of women's advocacy groups fought for women to appear on the nation's currency, and the campaign was specifically led by Women on 20s. 
Read the stories about each of the new bills here.
Read more: Treasury to Announce Harriet Tubman to Appear on the $20 Bill, Hamilton Will Stay on $10