ASOS Thinks Cara Delevingne Started Micro Braids, Internet Cleverly Educates Them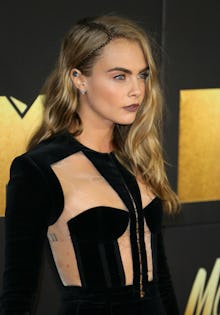 In lock-step with other fashion and beauty brands Christopher-Columbus-ing hairstyles worn by people of color, on Wednesday, British fashion retailer ASOS mistakenly claimed that model Cara Delevingne was the reason micro braids had risen to prominence.
Damn fashion, back at it again!
The now-deleted tweet kicked up a ruckus of online chatter straightaway (hey #BlackTwitter) with followers and non-followers alike flooding into the retailer's mentions. While some took more of an "excuse me" approach, others took the opportunity to make it a teachable moment.
The memes of course, were hilarious.
Social media users quickly clapped back on the brand with facts. 
A simple Google search of the term "micro braids" brings up a wealth of images featuring people of color. In fact, one of the first results is an article titled "70 Best Black Braided Hairstyles That Turn Heads." (That piece, it should be noted, was actually was written by a white woman!)
Read more: How a Natural Hair Beauty Pageant Morphed Into a Platform for Female Entrepreneurs
Micro braids, are simply tiny delicate braids, sometimes as cornrows (woven onto the scalp) or singles (allowed to hang freely away from the scalp) that women of color have worn for years. Of the most notable celebrities that have rocked them: hello Beyoncé, Alicia Keys and Brandy.
The brand hasn't responded to our inquiries for comment on the matter but did tweet two users a boilerplate apology, though they have yet to tweet one out to all of their fans.
The lesson? Educate yourself at least a little before you tweet something from a brand's account. Otherwise, you might find yourself a victim of Twitter's clapback.