Balenciaga's First Men's Runway Show Is a Surprising Backstep for Inclusivity In Fashion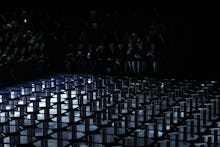 Though they've been producing a men's line for years, the Paris-based brand Balenciaga is finally putting their men's collection on the runway. But their methods seem a little off. By announcing the brand's first men's runway show, they're bucking an industry trend of combining men's and women's shows.
Demna Gvasalia has been making quite a name for himself since he debuted the Vetements label with a design collective back in 2014. His blockbuster moment came this March, when he debuted his first womenswear range for Balenciaga as their newly-appointed creative director.
The 40+ looks he showed there were mostly well received; his decision to cast all white models was not. 
But come June 22, Gvasalia will have a chance at finally getting the casting right as he debuts the first Balenciaga men's runway show in the brand's history. 
Founded by Spanish couturier Cristobal Balenciaga in 1919, the brand has routinely had a men's collection (contrary to WWD's original headline, this upcoming show will not be the "launch" of men's wear), but it has only been presented via private appointment. The move to put the range on the runway signals added attention and a major push for that arm of the business.
The curious thing about the announcement is that it comes at a time when brands are canceling their men's shows in favor of gender inclusion. 
Gvasalia himself, announced that Vetements would be combining their men's and women's shows in favor of a single runway presentation. That move came supported by headlining brands like Gucci in Milan and Burberry in London. To announce a new men's show, completely separate from the women's show seems out of step with the times.
There will be definite crossover in production though. Dazed reports that Lotta Volkova, a stylist who works with both Vetements and Balenciaga women's, as well as DJ Clara 3000, will be a part of the event. 
Whether that will correlate to a sameness in vision (the announcement stated that the show would be the "masculine vision of Balenziaga's new artistic director") remains to be seen.