A Hillary Clinton-Elizabeth Warren Ticket May Be in the Cards, Campaign Hints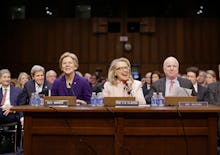 Hillary Clinton-Elizabeth Warren 2016?
Don't count it out, the Clinton campaign says.
In an interview with the Boston Globe, campaign chairman John Podesta said that the former secretary of state isn't ruling out a female running mate — hinting at the possibility of a historic all-female ticket and generating speculation about Warren, the Massachusetts senator and progressive favorite.
Read more: Elizabeth Warren Hits Out at Ted Cruz in Epic Tweetstorm — "2 Words: Boo Hoo"
"We'll start with a broad list and then begin to narrow it. But there is no question that there will be women on that list," Podesta told the Globe.
The case for Warren: For a campaign seeking to woo progressive supporters of Bernie Sanders, who continues to soldier on in the Democratic primary contest despite a landslide loss to Clinton in New York on Tuesday, Warren may be an attractive option.
Her stemwinders against big banks and free trade agreements have endeared her to many of the same populist-minded voters drawn to Sanders' candidacy, and her liberal luster was such that some progressive groups urged her to mount a presidential bid of her own.
Warren resisted those entreaties, but she has inserted herself into the 2016 debate with gusto — leveling withering attacks on Republican candidates Donald Trump and Ted Cruz, and applauding elements of both Clinton's and Sanders' proposals to take on Wall Street.
For voters wary of Clinton's Wall Street ties, a Warren pick could provide some measure of assurance that Clinton is committed to financial reform — and may go a long way toward inspiring enthusiasm from the Democratic base.
The case against Warren: But many Warren fans may plead with her not to accept a vice presidential nomination, fearing that the often-powerless role could diminish the clout she's accrued since her 2012 election to the Senate.
Some feel it would be better to have Warren holding a President Clinton's feet to the fire from the Capitol than for Warren to be in a subservient role in which she'd have to toe the administration's line.
Moreover, Warren would bring less than four years of experience in elected office to the job — potentially making prospects like Sen. Tim Kaine of Virginia, who also served as governor, more enticing for Clinton.
And unlike Kaine, Warren doesn't come from a swing state — although as William Galston noted in the Wall Street Journal on Wednesday, political science research shows that vice presidential running mates typically don't bring any home-state bounce to their tickets.
Other options: Of course, Warren is far from the only woman who could find herself in the mix.
Sen. Amy Klobuchar of Minnesota, Sen. Claire McCaskill of Missouri and California Attorney General Kamala Harris are among the other possibilities.
Skeptics are bound to raise the question of whether the country is prepared for an all-female ticket, but Clinton could always point out that few seemed to object to two centuries of all-male tickets.