'Game of Thrones' Star Maisie Williams Sells Westeros-Themed Swag of Herself At Hobby Shop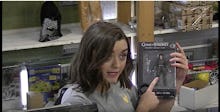 While most pranks involving celebrities require the person to remain inconspicuous, it's pretty hard when you're a star on Game of Thrones, and you're in, of all places, a hobby shop. Teaming up with Nylon — the magazine she graced the cover of for its May issue — Maisie Williams tried to prank unsuspecting fans as unassuming store clerk "Lorraine" giving out free Game of Thrones swag. Most people were convinced from the onset that she was, in fact, Arya Stark. 
"This is you," one customer says as he holds an Arya Stark action figure. "No," she replies. "I'm Lorraine." When another asks about her familiarity with the show, she doesn't seem enthused. "It seems like a weird show to me ... there's incest, dragons and everyone dies," she says. 
As fans recognized her, Williams shifted the focus to how the customers could earn their free Thrones merchandise: reenacting iconic scenes from the show. This included the Hound and Arya's final moments, Joffrey being poisoned to death at his wedding and Bran Stark being pushed off the tower in Winterfell by the incestuous couple Jaime and Cersei Lannister. 
Well played, Arya. Check out the full prank from Nylon below:
Read more: 'Game of Thrones' Star Maisie Williams' Thoughts on Feminism Show She Should Rule Westeros