Conservative Pundits Are Freaking Out Over Curt Schilling Getting Fired by ESPN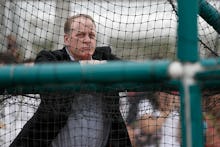 ESPN fired baseball commentator Curt Schilling on Wednesday evening after the former All-Star pitcher posted an insanely transphobic meme on Facebook.
Schilling deleted the meme before he got the boot, but Outsports captured the original post and published it on Twitter:
ESPN released a brief statement on Schilling's firing.
"ESPN is an inclusive company," the network wrote. "Curt Schilling has been advised that his conduct was unacceptable and his employment with ESPN has been terminated."
The oust was a long time coming for the pundit, whom ESPN has censured in the past for bigoted remarks. A standout example is a tweet he shared in August 2015 comparing Muslims to Nazis, which got him suspended.
"It's said only 5-10% of Muslims are extremists," read the meme in the since-deleted post, according to CNN. "In 1940, only 7% of Germans were Nazis. How'd that go?"
Now, conservative pundits are railing against ESPN's decision on Twitter.
From new editors to talk-show hosts, conservative pundits are attacking ESPN for giving in to "PC" culture, saying the network is quashing "conservative dissent." 
John Ziegler, conservative talk show host:
Todd Starnes, Fox News host:
Ben Shapiro, editor-in-chief at The Daily Wire:
Michelle Malkin, senior editor at the Conservative Review:
Scott Greer, associate editor for The Daily Caller:
Steve Deace, conservative talk show host:
Dana Loesch, conservative talk show host:
Right-wing talking heads' impassioned defense of Schilling's bigotry suggests how far the U.S. has to go when it comes to inclusiveness.
Even some state legislatures are getting in on the transphobic action. In North Carolina, Gov. Pat McCrory signed a bill in March forcing transgender people to use restrooms according to the gender that appears on their birth certificate. The law has prompted boycotts and cost the state millions of dollars in tourism revenue, but has also garnered support from conservatives nationwide.
Of course, ESPN doesn't exactly have clean hands when it comes to opposing bigotry. 
While the network does have a record of suspending its on-air talent when they act out, it continues to employ men who have openly speculated about the responsibility women have to avoid getting beaten by their boyfriends, and who feel comfortable explaining on live TV why homosexuality is an "open rebellion to God and Jesus Christ."
But at least in this case, ESPN seems to be on the right side of history. The company joins a growing number of businesses and public figures who've decided they will not tolerate transphobia.
h/t Mediaite