Harriet Tubman Wil Be Sharing the $20 Bill With Andrew Jackson — And That's Problematic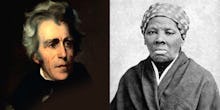 Get the five stories that will challenge you to rethink the world by signing up for MicCheck Daily.
A wave of criticism swept across the nation after it was announced on Wednesday former slave, humanitarian and abolitionist Harriet Tubman would become the next face of the $20 bill, with slave owner and America's seventh president Andrew Jackson still being prominently displayed alongside the White House on the reverse side. 
While some advocacy groups like Women on 20s, who have been fighting to have female leaders of social and political movements on currency, applauded the move, others lambasted the seemingly obvious contradiction inherent in featuring both a slave owner and former slave on the same bill.
As the U.S. Treasury department noted, Tubman fought throughout her entire life to make freedom possible for African-Americans, saying, "I would fight for liberty so long as my strength lasted."
Meanwhile, Jackson's self-sustainable, 1,000 acre plantation "relied completely on the labor of enslaved African-American men, women, and children." By the time he died, Jackson owned nearly 150 slaves, with many attributing the vast sum of his wealth to the work of the men and women he owned. 
Some people found the ordeal to be problematic, to say the least:
Jackson's remaining on the $20 bill wasn't just critiqued by those calling out the former U.S. president for his stance on slavery. Jackson played a critical role in the destruction of Native American life and culture in the 1800s, signing into law the Indian Removal Act in 1830, which led to the march of nearly 4,000 Cherokees on the infamous Trail of Tears. 
What's more, when news broke Wednesday that Tubman would be featured on the new $20, people immediately began celebrating, thinking she was replacing Jackson, the slave owner:
But nope — Jackson will still be right there, just on the other side of the new bill. Because, as one Twitter user so eloquently put it, "behind every great woman is a man who won't go away."