UK Warns Travelers to US About Anti-LGBT Laws In North Carolina and Mississippi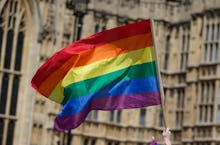 Get the five stories that will challenge you to rethink the world by signing up for MicCheck Daily.
The recent slate of anti-LGBT legislation proposed — and passed — in some U.S. states hasn't gone unnoticed by the rest of the world. On Thursday, CNN reported that the U.K. government had added an update to its official foreign travel advice for visitors to the U.S. under the "Local laws and customs" section, saying "The U.S. is an extremely diverse society and attitudes towards LGBT people differ hugely across the country. LGBT travelers may be affected by legislation passed recently in the states of North Carolina and Mississippi."
Read more: In Wake of Anti-Trans Law, North Carolinians Tell the World #WeAreNotThis
The warning refers to both HB2 — the so-called bathroom bill that recently passed in North Carolina, which bans trans people from using public restrooms that are not their assigned gender, and Mississippi's "religious freedom" law — also recently passed, that legalizes discrimination against LGBT people if it is "consistent with a sincerely held religious belief or moral conviction," reports CNN. 
The anti-LGBT legislation passed in North Carolina and Mississippi have received widespread criticism from within the U.S.: Just after HB2 passed in March, North Carolina residents began tweeting out their opposition to the bill with the hashtag #WeAreNotThis. A slew of musicians, including Bruce Springsteen, Mumford & Sons, Ringo Starr, Ani DiFranco and Cyndi Lauper have taken a stand against the bill, either canceling their North Carolina shows or turning them into a protest.
Other states have also responded to the bills as well — several state governors have issued executive orders banning official travel to Mississippi — but the U.K.'s newest piece of "advice" for LGBT travelers to the U.S. is disheartening proof that what's going on in some U.S. states reflects on the country as a whole.