Ariana Grande's Mother's Reaction to Her Daughter's New Album Is Priceless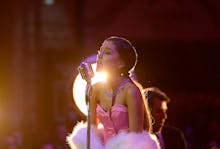 For her new album, Ariana Grande has been remaking herself into a much more Dangerous Woman than the Nickelodeon star we once knew.
The songs she's released so far — the seductive title track and her Lil Wayne collaboration "Let Me Love You" — are far more risqué than anything she's ever offered. 
Read more: Ariana Grande Is a Very Different and "Dangerous Woman" on Her Latest Single
Some fans have been having a hard time with that.
Earlier this month, Grande had to shut down a Facebook commenter who slut shamed her for absolutely owning the lingerie she wore in the "Dangerous Woman" music video. "When will people stop being offended by women showing skin/expressing sexuality?" she clapped back. 
Funnily enough, one person who seems to be having a great time with Grande's new music, is her mother.
In her latest Instagram post, Grande played her new album for her mom, and caught her reaction in all its glory.
"I'm not kidding!" Joan Grande, Ariana's mother, says in the video. "That's the best song I ever heard! Holy shit! Oh my god I almost vomited!"
Ariana Grande just laughs and laughs, because she knows what kind of fire she's packing with the new album. "She's actually going to murder me for reposting that but it's the funniest shit I've ever seen. Sorry, mama, love you," she wrote in the post's share text.
Hopefully, Grande's mother's reaction to Dangerous Woman will be all of ours.