Donald Trump Thinks Slave Owner Andrew Jackson Was "Great," Should Stay on $20 Bill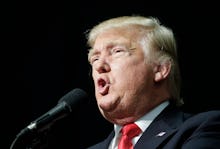 After news broke on Wednesday that the Treasury Department planned to replace former President Andrew Jackson's image on the front of the $20 bill with abolitionist hero Harriet Tubman, many were elated that a woman of color would take a place on U.S. paper currency — before realizing Jackson will remain on the back of the bill. But Republican frontrunner and reality television star Donald Trump just weighed in with his opinion, and he doesn't seem to be celebrating the news.
"Well Andrew Jackson had a great history, and I think it's very rough when you take somebody off the bill. Andrew Jackson had a history of tremendous success for the country," Trump told Matt Lauer during an appearance Thursday morning on Today. 
"I think Harriet Tubman is fantastic. I would love to leave Andrew Jackson and see if we can maybe come up with another denomination. Maybe we do the $2 bill or we do another bill ... I don't like seeing it ... I think it's pure political correctness."
Many supporters of the Treasury Department's decision to move Andrew Jackson off the front of the $20 bill have referenced Jackson's work as a slave trader and his "forced removal of peaceful Native American tribes from their homes," as the Los Angeles Times wrote on Thursday.
But Trump isn't the only politician to suggest that Tubman doesn't deserve a place on the $20 bill — on Wednesday, former Republican candidate Ben Carson, like Trump, also suggested that perhaps she would be better suited to the rarely seen and rarely used $2 bill.
Read more: Harriet Tubman Will Be on the $20 Bill — And Racist and Sexist Trolls Reacted as Expected