Utah Thinks Porn Is Bad For Your Health — But Pornhub Data Proves Otherwise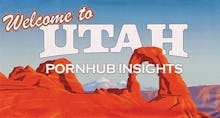 Earlier this week, Utah governor Gary R. Herbert signed a resolution aiming to combat a significant threat to his residents' health. Is he cracking down on drunk driving? Drug addiction? Junk food consumption? Lol, no. He wants to fight the real enemy: porn.
"Pornography is a public health crisis," he said. "Today I signed two bills that will bring its dangers to light ... so that more individuals and families are aware of the harmful effects of pornography."
Naturally, the data specialists at Pornhub got wind of this news and thought, "Hey, let's take a look at the porn habits of Utah's residents."
The results are in! Here are some general stats:
So obviously, nobody in Utah cares about their health.
Digging somewhat deeper into the state's favorite categories, it appears that the top search term of "lesbian" is followed by "hentai," "MILF" and "anal" — all of which have been known to cause congestive heart failure.
Pornhub also ranked the Beehive State's top "relative search terms," meaning search terms that are more common there than in the rest of the country. This data revealed that "cosplay," "creampie" and "first time anal" are the three biggest faves of Utah residents, all of whom are in apparently life-threatening danger every time they open their computers and watch men ejaculate into their partners' anuses while wearing full Final Fantasy IV regalia.
You can check out the full set of data here.