How Did Chyna Die? Drug Overdose Reportedly Being Investigated After Wrestler's Death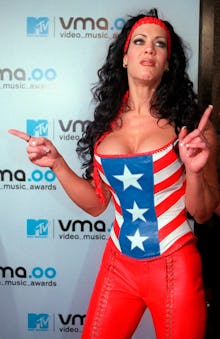 WWE wrestler Chyna, real name Joan Laurer, was found dead in her Redondo Beach, California, apartment Wednesday, her official website reported — and TMZ Sports reported that officials are investigating the possibility that she died of a drug overdose. 
According to the report, officials are investigating it as a drug overdose due to the 46-year-old Laurer's alleged history of drug abuse and that "prescription bottles were found in the home, but there were no illegal drugs," according to TMZ.
"We've learned ... police got the call around 7:30 pm," TMZ reported. "Our law enforcement sources say she had not been seen or heard from for a few days." 
On Sunday, Laurer posted a video to her Facebook page that showed the wrestler drinking what she said was water and watching surfers from her balcony. In the over 13-minute video, Chyna makes a smoothie and talks about "us girls ... healthy food idea, where we can deliver the food to you and, bring it to you, and everything." At times, her speech seemed shaken and she appeared to be slurring her words. Some viewers described it as "disturbing" and said Chyna didn't "look that well." Others said her behavior didn't seem strange and that it may have been because she had just woken up and was "half asleep." 
Laurer, a Rochester, New York native, was one of WWE's first stars when it launched in the mid '90s, the Los Angeles Times reported. She wrestled against both men and women and was once the WWE women's champion. She also acted for adult and mainstream films. Her autobiography, If Only They Knew, became a New York Times bestseller in 2001, the Los Angeles Times reported.
April 21, 2016, 10:05 p.m. EDT: This story has been updated.