Ahead of Its Biggest Premieres of the Year, HBO Is Free All Weekend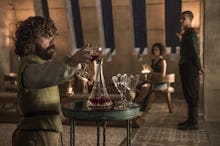 April 22 and April 23 are inarguably going to be HBO's biggest days of 2016. 
Sunday brings the season premieres of Game of Thrones, Veep and Silicon Valley. Saturday, HBO will exclusively debut Beyoncé's new project Lemonade.
Luckily, even if you're not an existing HBO or HBO Go subscriber, you can watch it all — for free.
For this weekend only, HBO will offer free access to these premieres, movies and more.
As reported by the Wrap, a 48-hour free trial will be available to cable subscribers from Friday to Monday.
But what if you're not a cable subscriber? What about cord-cutters?
Have no fear: HBO's standalone service HBO Now is also still offering its one-month trial. Just make sure you unsubscribe before you get charged $14.99 for the second month.
That's right: No matter whether you're a cord-cutter or cable subscriber, you can get Beyoncé, Game of Thrones and premieres of new comedies all at the low cost of $0.
Read more: The Best Part of 'Silicon Valley' Is What It Gets Wrong About the Real Silicon Valley