The Best Virtual Reality Accessory Is Your Dad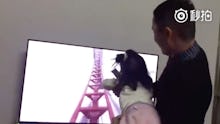 Best. Parenting. Ever.
This dad saw the $600 Oculus Rift price tag and took "virtual reality" into his own biceps — lifting his daughter up and taking her on a virtual roller coaster ride.
No headset, no problem. This dad put a roller coaster simulator on the big screen and lifted his daughter inches away, moving her around to mimic the movement of the coaster. 
This is a step back in the evolutionary cycle of wrapping televisions around our faces, but that's OK — she is clearly loving it. You can't put a price tag on good old-fashioned fun. 
DIY Dad VR also works with a headset. If a giant spinning chair simulator isn't accessible to you, strap on a headset and let dad do the heavy lifting. Thanks, Dad!