17 Passover Dessert Recipes to Take Your Seder Game to the Next Level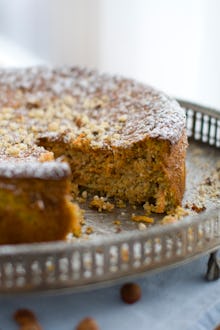 For many Jews who celebrate Passover, part of observing means abstaining from grains like wheat and oats for the customary eight days of the holiday, which begins at sundown Friday.
This can make eating dessert kind of tricky, because most cakes, cookies, doughnuts and pies are off the table, literally. But don't worry, because there are plenty of awesome, Passover-friendly dessert recipes that will elevate your seder game to the next level this year... if you know where to find them. Here's a roundup of 17 recipes from Twitter.
Flourless Mexican chocolate cookies
Matzo toffee crunch
Citrus sponge cake
Strawberry rhubarb crumble
Brazil nut cake
Frozen lemon meringue pie
Chocolate-dipped coconut macaroons
Apple matzo cake
Mini flourless chocolate cakes
Chocolate hazelnut macaroon torte
Lemon almond cake
Chocolate coconut pie
Sea salt matzo chocolate nut bark
Orange almond cake
Coconut berry tart
Chocolate mousse
Matzo s'mores
Chocolate, almond and pistachio bars