Chinese Government Comic Warns Young Women Their Boyfriends Might Be Foreign Spies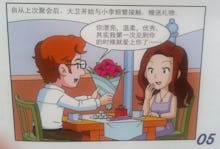 The Chinese government recently released a comic book called Dangerous Love that warns young women of James Bond-esque seduction and deceit by foreign spies, according to CNN. These 16-panel comics — in which a young female government worker is tricked by a foreigner posing to be a scholar (and her boyfriend) — have been conveniently hung up as posters all around Beijing.
Read more: These Drawings Perfectly Demonstrate the Beauty of Single Life, Just in Time for V-Day
Dangerous Love's release coincides with China's new crackdown on national security, with April 15 being its first annual National Security Education Day. "Everyone in the community should be urged to increase their sensitivity and level of awareness to national security, as well as be political sensitive," the poster said, according to CNN.
Chinese officials didn't have to look far for plot inspiration, since on Tuesday, Huang Yu earned the death sentence for sending 150,000 classified government documents to a "foreign spy organization," the Guardian reported.
Still, not everyone is digging the new propaganda. "We don't actually believe this," one Chinese woman told CNN. "A lot of our friends have foreign boyfriends, and we would never believe that they are spies." Others think it's a "joke."
Below are some excerpts from the comics, provided by China Law Translate:  
Civil servant Xiao Li meets David, a foreigner posing as a scholar at a friend's dinner party. Nothing unusual here. 
"DAVID: 'My name is David and I'm a visiting scholar researching issues about China. I'm really interested in chatting with all of you.'"
Of course, Xiao Li catches his eye and the two begin to date, complete with red roses and dinner dates.
"After that party, David began to meet with Xiao Li often and gave her gifts. 
Love-stricken, Xiao Li is having the time of her life. 
"XIAO LI: 'Having a handsome, romantic and talented foreign boyfriend is pretty good.'"
After discovering that she works in the propaganda department for the government, David goes in for the kill and asks her for internal documents. She refuses at first because she has a conscience. 
"DAVID: 'Great! Lend me those internal references so I can take a look. This will really help me write academic articles.'
Eventually, he sweet talks her into giving in. 
"DAVID: 'Dear, do you still need to keep secrets from me? I'm just taking a look to use in academic articles.'
Over red wine, Xiao Li gives deceitful David the documents. 
"XIAO LI: 'This is a copy I made, give it back as soon as you're done.'
David is a liar and a ghoster, as Xiao Li doesn't hear from him again.
"XIAO LI: 'What happened? David hasn't called me recently, and his phone is always off.'"
But unlike other ghosting situations, security officials find Xiao Li and bring her into questioning. They say they've caught David and ask if she gave him those documents.
"XIAO LI: 'I didn't know he was a spy; he used me!'
If anything, these comics do prove that dating is hard.