How Indie Artist Vox Cracked the Viral Code With a Haunting Kendrick Lamar Remix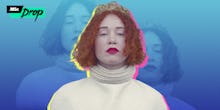 Mic Drop is a Friday series, highlighting musicians who stood out from the week's noise, offering the boldest social, political and artistic statements. This week, indie R&B artist Vōx discusses how her career has sped from 0 to 100 with a brilliant cover of Kendrick Lamar's "I." 
Sarah Winters aka Vōx (pronounced "wokes") woke up on April 14th to several frantic texts from her friends, letting her know her life had just been turned upside down. 
Her remix of Kendrick Lamar's "i" off the Grammy-winning rapper's 2015 album To Pimp a Butterfly somehow found its way onto Spotify's Fresh Finds playlist, a curated list of undiscovered tracks followed by nearly 170,000 users. 
Less than a week later, her haunting rendition launched all the way to #2 on Spotify's United States viral charts. 
Read more: Bosco and Speakerfoxxx Are "Calling All Badass Women to the Yard" With Their New Mixtape
How the song made its way into the earbuds of global listeners, being played well over 120,000 times its first week on the charts, is still a mystery for the Los Angeles-based artist. But she's beyond grateful for the chance to share her music with the world, and she isn't letting the moment pass her by. The girl with the ethereal sound will have a video for the remix coming out within a month, and a lot more music where "i" came from.
Kendrick Lamar's identity is expertly implemented into each of his albums, and especially in "i." But, his message behind the music as a black man in America could likely be relatable in an entirely different way to a white female artist. How did you inject your own identity into the song?
Vōx: One of my main goals is to connect with youth who are struggling, no matter who that is. I struggled a lot as a youth. I had a lot of depression, anxiety and I felt very disconnected from the world. I think most kids feel that way — like they are disconnected, and nobody in the world understands how they feel. So putting positivity in music, letting the youth know it does get better and you can get through those feelings, is really important to me. 
I mean, "i" really resonated with me when it first came out, I was so excited by it. I loved it so much and endlessly played it — I think it's my favorite song off Butterfly. It has such an amazing message, and it was such a perfect time as a nation to hear that message. I couldn't stop thinking about it. 
"Letting the youth know it does get better and you can get through those feelings is really important to me."
It was last fall when I realized I really wanted to cover it. I started working on the arrangement then and it took me a really long time. It takes me much longer to cover a song. I think part of it is the pressure: Obviously when you're covering an artist's song, it's because you love them — I hope. So the pressure of them being able to possibly hear it and also the pressure of putting your name next to theirs is huge, and I would never want to put out something that would embarrass [Lamar]. He's a mad genius. That's how far deep I think into it. 
What role has music played in shaping your own identity?
Vōx: This project is very different from what I did when I was making music as a teenager. I think some of the first artists that influenced me were local Minnesota hip-hop performers, like Atmosphere and Doomtree. 
When I realized I could make my own music was when I found all sorts of other indie artists like Bright Eyes and people on Saddle Creek. That's when I was like, 'Oh, I don't have to make music that sounds like Mariah Carey!' That was a huge thing for me, because living in a tiny town, you only have the radio. So you think that's what all music is. My sister would take me to hip-hop shows and that became very influential for me.
Mic: 18-year-old Rory Fresco became a viral sensation when his "Lowkey" popped up as a suggested track for listeners on SoundCloud checking out Kanye West's "Real Friends," thanks to the platform's algorithms. Now, he's signed onto Sony Music's Epic Records. Can you speak to the effect going viral has had on you and the music industry at large? 
Vōx: I think it's all very random, like in [Fresco's] case. To go viral and be successful from it, someone has to be on your side; whether it's a celebrity, or someone at Spotify, there has to be someone that hears you and wants to rally behind you. The powers and the energies of the universe have to be on your side, for sure. I had a friend connect me to someone at Spotify, so it could have been through her, but it might not have been. There's no way to know. I still feel like it's all a mystery.
Listen to Vōx's "i" via YouTube below or on Spotify here.