Nicki Minaj Says Women Should Be "Unapologetic" About Getting Their Money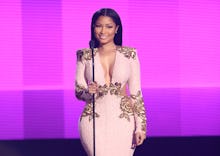 Nicki Minaj is a boss among rappers, a mogul among mere entertainers — and Time magazine knows it well.
The legacy publication featured Nicki Minaj on their annual "100 Most Influential People" list and interviewed her in a brief video. Nearly every quote she gives — hitting on female economic empowerment and how to be a boss in the intractably sexist music industry — is straight fire.
The words of wisdom she offers to women looking to make a name for themselves in business are worthy to add to the ever-growing gospel of Minaj.
She learned the importance of asking for what's hers early, she says in the interview. 
"One thing I learned along the way in business is the necessity for you to be unapologetic about asking for how much money you deserve," she says, sharing she started out making six figures for shows early on because she demanded it. "I pushed myself to be better with my showmanship, but I also decided, you know what? I want to be compensated well."
Her Minajesty also spoke about her collaborations with Beyoncé, and the power she feels when they enter into the studio together.
Whenever I do something with her, I can feel the impact online and in the venue — wherever we are. It just feels like young women are being empowered and inspired ... I think it says a lot when you see two young women at the top of their field, whether they're black or white. It just means a lot when you see them owning who they are and owning the business.
Watch the full interview here.
Read more: 17 Times Nicki Minaj Perfectly Shut Down Sexism