Melania Trump and Kim Kardashian West Both Think Their Husbands Tweet Too Much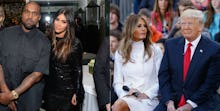 Which aspect of Donald Trump's character do you think bothers his wife more: that he's a known egomaniac, or that he has a Twitter account?
As it turns out, the answer is behind Door #2! Melania Trump just wants her husband to stop tweeting.
In an interview on the Today Show Thursday morning, co-host Savannah Guthrie asked Melania which of Donald's habits she most wishes he'd give up.
Her answer:
On that note, consider this: a People story from February featured quotes from an anonymous source who told the magazine that Kim Kardashian West wishes her egomaniac husband would give up his tweeting habit as well.
"What causes friction in the marriage [...] is Kanye's compulsive tweeting," the source said. "Kim can't stand it. She is all for self-promotion, but doesn't approve of Twitter drama."
Kanye recently defended his Twitter presence in an episode of Kocktails with Khloé earlier this week, telling his sister-in-law that his timeline is only overconfident and erratic because "there's previously no Kanye West alive to tell me how to be Kanye West."
Meanwhile, Donald Trump has also been known to refer to himself in the third person.
Hmmm. Are these two women actually married to the same man? Could it be that Kanye is Donald and Donald is Kanye? (Just like Finkle is Einhorn and Einhorn is Finkle?) Both have expressed interest in running for president. One of them is even doing so right now.
Something to think about. Either way: Kim and Melania should totally do brunch sometime!
h/t The Cut