15 Photos of Tantalizing Street Food From Around the World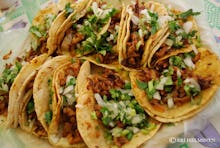 One of the best parts of traveling to a new place, arguably, is the food. 
And we don't mean eating restaurant-style; we're talking about late-night, no seating street food vendors. Street food is arguably the most authentic snapshot of a place — it's where locals grab their grub for usually low prices.
"But you know, food is everything we are," bonafide traveler Anthony Bourdain said, according to Slate. "It's an extension of nationalist feeling, ethnic feeling, your personal history, your province, your region, your tribe, your grandma. It's inseparable from those from the get-go."
Read more: Here Are the 8 of the Most Drool-Worthy Food Instagram Accounts
Below are 15 photos of street food from around the world. Just try not to feel a little bit of wanderlust — or hunger. 
1. Currywurst in Germany
In Berlin, a popular fast food item is fried pork sausage served with fries and topped with curry ketchup, called currywurst. 
2. Tanghulu in China
These skewers of candied fruit can be found in most major Chinese cities. 
3. Takoyaki in Japan
Takoyaki is a small ball of fried octopus and batter, cooked in a special takoyaki pan and topped with a sauce similar to Worcestershire sauce. 
4. Banh mi in Vietnam
The banh mi sandwich is like a po' boy found in New Orleans. They use baguettes from the influence of French colonization. 
5. Arancini in Italy
In Sicily, arancini are extremely easy to find — and delicious too. They're fried rice balls, usually stuffed with mozzarella or meat sauce, called ragu. 
6. Rou jia mo in China
Rou jia mo translates into "meat sandwich," and literally is one. Most commonly, these babies are stuffed with pork (that are sometimes flavored with over 20 spices and seasonings.)
7. Tacos al pastor in Mexico
Al pastor in Spanish means "in the style of the shepherd," and the phrase refers to the large slab of meat that is carved for the tacos al pastor. 
8. Arepas in Colombia
Arepas are made with dough that uses ground corn. It's often stuffed with meat, avocado and different cheeses.   
9. Crepes in France
These thin pancakes are all over Paris and can go savory or sweet (aka filled with Nutella.)
10. Jerk chicken in Jamaica 
Jerk refers to the flavorful marinade, which is based on allspice and Scotch bonnet peppers. 
11. Khachapuri in Georgia 
This bread is filled with gooey cheese and sometimes eggs. 
12. Langos in Hungary
Langos is a deep fried piece of dough that's covered with sour cream and cheese. 
13. Bunny chow in South Africa 
In South Africa, bunny chow is a popular fast food meal that's basically like a soup bread bowl but uses a loaf of bread and curry instead of chowder and sourdough. 
14. Vada pav in India
This super cheap Mumbai street food is a deep fried potato in a bread bun.
15. Poutine in Canada
In Montreal, fries are topped with gravy and cheese curds to become the decadent poutine.