13 Rare Quotes From Prince Allow the Legend to Tell His Story in Own Words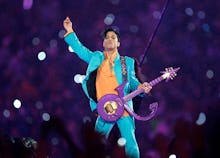 Prince, his purple majesty, the artist formerly known as the artist formerly known as Prince, one true father of all that is funky and weird, is dead at 57. 
TMZ reported the initial news Thursday morning that sheriffs responded to emergency calls at Prince's home at Paisley Park in Chanhassen, Minnesota at 9:43 a.m. This comes only days after his jet had to make an emergency landing Friday to tend to a severe flu. He seemed to be on the mend, however, and threw a dance party at Paisley Park the very next day. It may have been his last such party.
Read more: Prince, Pop Icon, Dead At 57
Over his nearly 40-year-long career, Prince broke ground on every aspect of what an artist can be. His music blurred the lines between funk, soul, R&B and pop, and he leveraged it to stand up for artistic integrity against some of the most monolithic powers in music. Nothing could stop him from speaking his mind. He did so in front of a national audience as recently as the 2015 Grammys, when he broke from the script to say, "Like books and black lives, albums matter, tonight and always."
The purple one rarely gave interviews, but when he did they were consistently magic. What follows are 13 more quotes from the legend, reprinted from a 2015 Mic story. They sum up some of the most poignant aspects of his amorphous artistic persona and most powerful moments of his stunning career.
1. "All people care about nowadays is getting paid, so they try to do just what the audience wants them to do. I'd rather give people what they need rather than just what they want."
– 1982 LA Times profile
2. "I used to tease a lot of journalists early on, because I wanted them to concentrate on the music and not so much on me coming from a broken home. ... I don't live in the past. I don't play my old records for that reason. I make a statement, then move on to the next."
Source: 1985 Rolling Stone profile
3. "The most important thing is to be true to yourself, but I also like danger. That's what's missing from pop music today. There's no excitement or mystery."
Source: 1982 Los Angeles Times profile
4. "I'm not a woman. I'm not a man. I'm something you will never understand."
Source: "I Would Die 4 U" lyrics
5. "A strong spirit transcends rules. ... As RZA of Wu-Tang said, 'I ain't commercial, it's y'all who tell me whether I'm commercial or not.'"
Source: as told to Barney Hoskyns in 1999, quoted in 2006 Guardian article
6. "Movies are real! Music is real! It affects people, it's real. ... The other night I went to a club and I watched a DJ control an entire room. Even politicians can't do that."
Source: Notorious cover story
7. "The key to longevity is to learn every aspect of music that you can."
Source: The View, 2010
8. "Yeah, everybody's got a bomb, we could all die any day. But before I'll let that happen, I'll dance my life away."
Source: "1999" lyrics
9. "There are no accidents. And if there are, it's up to us to look at them as something else. And that bravery is what creates new flowers."
Source: 1991 Details interview
10. "The new pushes the old out of the way and retains what it wants to."
Source: "Dear Mr. Man" lyrics
11. "Don't let your children watch television until they know how to read, or else all they'll know how to do is cuss, fight and breed."
Source: 2011 Guardian profile
12. "Anyway, all these computers and digital gadgets are no good. They just fill your head with numbers, and that can't be good for you."
Source: "Sexuality" lyrics
13. "When I became a symbol, all the writers were cracking funnies, but I was the one laughing. I knew I'd be here today, feeling each new album is my first."
Source: Newsweek interview, 2004