Prince, Like David Bowie, Was a Pioneer in Outrageous, Fun and Flashy Fashion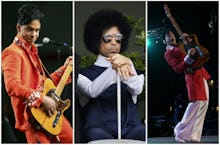 On Thursday afternoon, news broke that music icon Prince was dead at age 57. 
He was known for being an incredibly talented musician, an empresario and, to the fashion community, someone who had no fear of going there. And by "going there," we mean wearing whatever he wanted without even a hint of trepidation. 
Read more: Prince, Pop Icon, Dead at 57
For example, he was able to put his mark on suits in a masterful way, playing with color, shape and size. 
He was able to make canes a fashion statement, embellishing them with glittery stones.
He was also, unarguably, the only man who can truly pull off a fedora. 
He wore outrageous sunglasses as often as he possibly could. 
As a sex symbol, he embraced feminine dressing, wearing heels and flouncy blouses. 
Much like David Bowie, who died in January, he pushed the envelope for what a male sex symbol could wear and still be taken seriously. And in Prince's case, a male sex symbol could wear anything he really wanted. He could wear anything that made him happy, and because of that, he is a fashion icon. 
On Twitter, even if they weren't a huge fan of his music, people were quick to point out that his presence will be deeply missed in the fashion world. 
Already, people are comparing his fashion legacy to Bowie's. 
Because really, who else on this planet will ever go on stage wearing a gold necklace like that and chest hair like that while rocking out on a pink guitar? 
Who else is fearless enough to make the color purple his signature? 
He is irreplaceable in the style world because he did what he wanted with such bravado. Because of his fearlessness and sense of fun, he will surely be missed by anyone who loves to break fashion's rules.