Under Intense Scrutiny, Republican National Committee Votes Down Convention Changes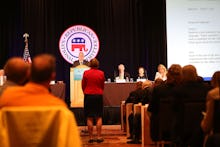 HOLLYWOOD, Fla. — When it comes to Republicans nominating their next president, it looks like rules weren't made to be broken — at least not yet.
Members of the Republican National Committee skirmished here Thursday over the way they'll run their July presidential nominating convention in Cleveland.
Read more: "Brokered Convention": What It Is and How It Could Upend the 2016 Presidential Election
The RNC's Spring Meeting has drawn an unusually high level of attention as the GOP stares down the possibility that none of the remaining presidential candidates — Donald Trump, Ted Cruz and John Kasich — will win enough delegates in the primaries to claim rights to the nomination.
That sets the scene for the potential chaos and horse-trading of the first contested GOP convention since 1976.
As of Thursday, the second day of the RNC meeting at a resort in south Florida, Trump had won 845 of the 1,237 delegates the GOP nominee needs. Per a RealClearPolitics tally, Cruz has 559 and Kasich has picked up 148.
The stakes are high enough that in addition to putting top aides and supporters into circulation to woo RNC members, both Cruz and Kasich made personal appearances to present their cases for a win to the party and to the press. 
Trump remained on the campaign trail on Thursday, trying to keep up the momentum of a big primary victory in his home state of New York, but dispatched senior team members Paul Manafort and Rick Wiley to Florida to make a formal presentation to the party rank and file.
Which rules rule? National Committeeman Solomon Yue of Oregon proposed running the convention under Robert's Rules of Order — a switch from the traditional use of the more complex House rules.
Which set of rules ultimately rules is more than a procedural quibble: By most interpretations, a switch from House to Robert's would make it harder for GOP "establishment" leaders to advance a so-called "white knight" candidate if consensus can't be reached at the convention after rounds and rounds of voting.
"This is a [politically] supercharged year. and we can't afford to have another incident like we had in 2012," Yue said, in a reference to the controversy over an effort to nominate Ron Paul at that year's GOP convention. 
"That will blow up the convention and this party as well as cause us to lose, in November, the White House fight," Yue explained. "We lose the White House fight in November, we give Obama a third term to complete his radical transformation of America. I don't think I want to see that, especially as an immigrant [who] found freedom in this country and found this party as a home."
Committeeman Morton Blackwell of Virginia, a noted authority on GOP procedure — and a Cruz supporter — questioned whether a shift from House to Robert's Rules could contribute to a free-for-all of what could well already be a brawl of a convention.
"Robert's Rules provides that any delegate can stand up and make a point of order, and it also provides that that point of order must be dealt with by the chair before further business can be conducted," said Blackwell. "Do we want a convention where 2,500 people are all empowered to raise a point of order, one after another?"
The discussion drew legions of reporters from all over the country to track the proceedings — and RNC members were acutely aware of it.
"You can see the cameras at the back of the room. Everybody is watching; everybody can see what we do," said Jeff Kent, a Washington State committeeman who spoke against the idea of mulling the question over more privately.
"I would hate for us to take action right now to send this to what would be described as a smaller committee, meeting in a back room, without the cameras around, for the purpose of coming up with a rules change," Kent said.
"It's already a supercharged environment and too close to the convention to be taking up a rule change anyways — and we're only going to make that worse by punting the can down the road. We see Congress do this all the time; let's not do it ourselves."
In the end, the group voted against the switch in under an hour. 
Plenty more questions are sure to be raised when the party's leaders meet again a week before the Cleveland convention. 
In the meantime, the campaigns continue to steam along with the regular work of building ground games for the upcoming primaries. The next round is slated for April 26, when five states — Connecticut, Delaware, Maryland, Pennsylvania and Rhode Island — cast their votes.
The Trump, Cruz and Kasich teams are also continuing to hold their closed-door meetings and receptions with GOP leaders here in the target-rich environment of the Hollywood meeting.
Brandon Bell, chairman of the Rhode Island Republican Party, and National Committeewoman Lee Ann Sennick called their meet and greet with Manafort and Wiley Thursday morning a "cordial" affair.
"They didn't make any overtures to ask any of us to be delegates for us at all," Sennick said in an interview after the chat — a possibly surprising move considering the likelihood of an open convention at which even delegates bound to support the candidate who wins their state might be freed of that obligation after a first round of voting. 
"They're confident they will get to the 1,237."  
Bell was one of the GOP leaders who noticed the absence of Trump himself, who while running as a non-politician outsider has spent plenty of time attacking the party for what he derides as its "rigged" delegate system.
"I'm a bit disappointed that he's not here, I'll be perfectly honest," Bell said, "and I told Mr. Manafort and Mr. Wiley that. Sen. Cruz and Gov. Kasich were here ... This is the largest gathering of delegates ... How a candidate doesn't come here is a little bit baffling."
As for Yue, he said in a post-meeting interview that he was happy his ideas had been heard, even if his proposal didn't carry the day.
"I want transparency and [to] empower the grassroots ... I am very satisfied, because me — a minority voice — has been heard today," Yue said. 
"It's not about [losing] or winning anything at this point — and I'm fine with that," he added.
Trump, Cruz and Kasich — and the GOP itself — will, of course, not be fine with anything but a ticket to the White House.
The general election is Nov. 8.