How Did Prince Die? What We Know About Singer's Possible Cause of Death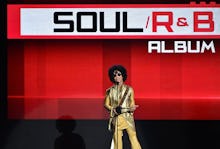 The Associated Press confirmed Thursday the death of music legend Prince at his estate in Chanhassen, Minnesota. He was 57. While the official cause of Prince's death hasn't been reported or confirmed, TMZ, which broke the news, reported he had recently had a "bad bout of flu" that left him hospitalized last week. 
During a Friday press conference, Carver County Sheriff Jim Olson said an autopsy had been completed earlier in the day and results would "not be ready for weeks." The singer's body, he said, had "no obvious signs of trauma" and they had "no reason to believe" the cause was suicide.
On Thursday night, TMZ had reported that the singer was allegedly hospitalized and treated for an overdose of the powerful painkiller Percoset on April 15. The singer's plane made an emergency landing in Illinois, one day after he performed in Atlanta. 
According to TMZ, Prince had been "fighting the flu for several weeks" and had canceled two shows on April 7. Following the hospitalization, the singer left the hospital against advisement from doctors. It was not immediately clear Thursday whether the illness and his death were related. 
TMZ reported that Prince was given a shot typically given to people having an opiate overdose.
Despite his Friday hospitalization (he was released three hours later), Prince, real name Prince Rogers Nelson, performed in Minnesota the following night. 
Authorities are investigating Prince's death, according to the Carver County Sheriff's Office. "Deputies are on scene of a death investigation at Paisley Park in Chanhassen," the office tweeted Thursday. "More info to follow."
April 22, 2016, 4:30 p.m. : This story has been updated.