Remembering Prince, the Digital Pioneer Who Fought to Shape the Internet for the Better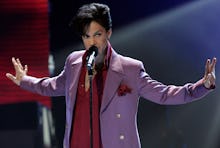 "I scanned my computer, looking for a site. Somebody to talk to, funny and bright." — Prince, "My Computer," 1996
Prince died Thursday at the age of 57. To some, the singer of songs including "Computer Blue" and "My Computer" will be incorrectly remembered as an artist who hated the internet.
Prince did not hate the internet. He was often disappointed in it, or thought that it was dead as a medium for artists. But Prince fought, before many others, to make the internet better for artists and musicians.
Tough love: One big misconception about Prince is that he was a luddite — that he was on the wrong side of history. In 2010, he brashly declared that "the internet's completely over." But Prince simply didn't want to give his music over to platforms and online stores that wouldn't compensate artists for their hard work.
"What I meant was that the internet was over for anyone who wants to get paid, and I was right about that," Prince told the Guardian last year. "Tell me a musician who's got rich off digital sales. Apple's doing pretty good though, right?"
We hear Prince's argument repeated by major artists like Taylor Swift and Adele when they protest putting their music on Spotify, or by independent artists who go broke in the digital music landscape. It's the premise of Tidal, Jay-Z's venture into music streaming that prioritizes artists' needs over platform profits.
Speaking of Tidal, Prince — a consummate entrepreneur and champion of his personal business interests — was among the first mainstream artists to conceive of online destinations for immersive multimedia experiments and services. From 2001 to 2005, Prince hosted a site called the NPG Music Club, an exclusive online subscription service behind a $100-per-year (or $7.77 monthly) paywall that gave fans access to new music, VIP tickets and a weekly radio show hosted by the man himself.
In 2006, Prince received a special lifetime achievement Webby Award for being the first artist to release an internet-exclusive album, his 1997 LP Crystal Ball.
"Long before MySpace and iTunes, Prince used the web to premiere videos and new music, challenge distribution practices, and connect with his fans," the Webby Awards writes on its site, memorializing Prince's contribution to online music.
Prince's future is still possible: New platforms, books and entire transaction systems were created in the past decade to bring about Prince's imagined internet, where artists could reach their fans and find a fair wage. On sites like Kickstarter and Patreon, artists can build fanbases that they control and communicate with, finding way to fund dream projects that major record labels would never legitimize.
Musicians can start their own sites or services that release albums or performances via digital downloads and paywalled torrents, or simply ask for fans to pay what they can. The internet that Prince wanted and the internet Prince hated both exist, side by side, fighting for the future.
Prince's fight against the digital revolution can be taken up as a rallying cry — that the internet is however we shape it, and that we can at any moment boldly declare that it is "completely over," and make it anew.