DeepArt Turns Your Selfies Into Works of Art Worthy of a Museum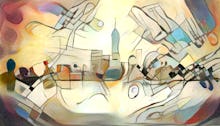 Your Instagram selfies aren't likely to wind up in a museum (unless someone takes them and puts them in a gallery), but you can still pretend they are works of art by using DeepArt's picture rendering website. All you have to do is upload a photo and pick another image whose style or aesthetic you want it to emulate — from Picasso's cubism and Van Gogh's post-impressionism to even Andy Warhol's pop art.
Read more: An Artist Drew Donald Trump With a Micropenis — and It May Get Her Banned From Facebook
Five researchers from three universities in Germany, Switzerland and Belgium founded DeepArt. Matthias Bethge, Alex Ecker and Leon Gatys developed the algorithm, and the website was designed by Lukasz Kidzinski and Michael Warchol.
LiveScience reported the algorithm "mimics the neural connections in the human brain," according to Kidzinski. He told the publication the algorithm uses a "mathematical model built of units called neurons linked with each other."
The algorithm excels at object recognition because, much like the brain, the algorithm is able to recognize patterns and isolate aesthetic and stylistic elements, LiveScience reported.
You can convert your photos into pieces of art for free, but your wait could be lengthy — hours or even days, LiveScience reported. On the other hand, if you pay the premium of 1.99 euros (about $2.25), you can vastly reduce the wait time to about 15 minutes. You can even pay to have your newly created pastiche printed as a poster or gallery print.