Frank Ocean Penned a Stunning Tribute to Prince on His Tumblr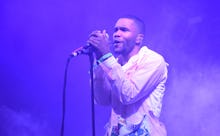 When the world thought that Frank Ocean's album drop was imminent in July, the question was everywhere: What will it take to bring Frank Ocean out of hiding?
Now we know — it was nothing short of absolute music apocalypse: Prince's death.
Prince, 57, was found dead in his Paisley Park mansion Thursday. The music world has been in disarray ever since, with tributes and tweets pouring in from every angle. Thus far, no tribute has spoken louder than Frank Ocean's, which he posted to his long-neglected Tumblr.
Read more: 13 Rare Quotes From Prince Allow the Legend to Tell His Story In Own Words
"I'm not even gonna say rest in peace because it's bigger than death," Ocean began. 
He never met the Purple One, Ocean wrote, because the one time he got close enough, he chickened out. His reverence for Prince's artistry and distaste for every arbitrary societal norm made him "too nervous."
"He was a straight black man who played his first televised set in bikini bottoms and knee-high heeled boots, epic," Ocean wrote. "He made me feel more comfortable with how I identify sexually simply by his display of freedom from and irreverence for obviously archaic ideas like gender conformity etc. He moved me to be more daring and intuitive with my own work by his demonstration."
Read Ocean's powerful statement below.