Lady Gaga Posts Touching Tribute to Prince on Instagram: "You Just Found God Early"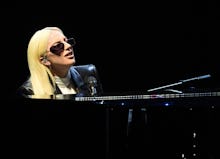 On Thursday, pop icon Prince died from causes not yet identified by the Carver County coroner; since then, the entire world has been mourning the purple one. Cities, the media and even lighting on domestic flights took on a violet hue in remembrance of the legendary recording artist. 
Read more: Prince Will Be Missed — And So Will His Masterful Shade
There's been an outpouring of condolences from celebrities as well, with Frank Ocean and Spike Lee paying public tribute to Prince Rogers Nelson — even President Barack Obama issued a statement in honor of the "virtuoso instrumentalist." Now Lady Gaga has taken to Instagram to share an in memoriam message for Prince and his bereaved fans.
"I tend to believe that when we die our souls hover for at least a moment, if not longer, before they either rest or are recycled into the consciousness of an already living being or maybe a newborn baby," she captioned a photo of Prince playing guitar in all his purple glory. "Isn't it amazing Prince shared his soul with us so deeply before his death, and now after we will be replenished endlessly by both his legacy and all that he still has to give from the beyond."
"Thank you for sharing your life with us, Prince," Gaga continued. "Giving up your anonymity because you felt compelled to share your gift. We learned so much. You just found God early, he needed you upstairs to innovate in heaven."
Prince was an influencer in music, style and sex-positivity; his smashing of gender norms paved the way for artists like Lady Gaga, who previously paid tribute to the late David Bowie at the 2016 Grammys, to challenge the boundaries of sexuality. Her Instagram post hasn't been her only social media tribute to the multiplatinum artist. On Saturday, she shared a lyric from Prince's "Sign O the Times" on Twitter. 
April 29, 2016, 2:35 p.m. Eastern: This story has been updated.