You Can Help Choose What Wikipedia Articles Aliens Get to Read on the Moon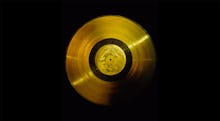 If you're an alien (greetings!) and you missed out on the first package Earth sent to extraterrestrials in the '70s, you're in luck. There could be another disk headed out to space next year. This time it'll have Wikipedia.
Wikimedia Deutschland, the German arm of Wikipedia's governing board, announced Thursday it was contacted by Part-Time Scientists, a team of German engineers who are working with Audi to send out a lunar rover by the end of 2017. The Scientists are one of three featured teams among 16 finalists in Google's Lunar XPrize competition, which will allot $30 million among winning teams that put rovers on the moon.
If the Part-Time Scientists win, Wikimedia said it will be sending up a 20 GB "ceramic-made data disk" containing a selection of Wikipedia articles.
"We believe that any preparation of Wikipedia content for such a symbolic purpose ought to be community-driven," Michael Jahn, Wikimedia Deutschland head of communications and partnerships, said in an email to the community. "This is bigger than single-language communities or single groups or organizations within our vast movement. So we've decided to be bold and make every step of the process open for anyone who wants to contribute."
            Read more: 10 Mysterious Phenomena That Science Can't Explain — Aliens, Yawning and Spooky Rocks
Much like the Voyager's Golden Record — which was ahead of its time with recordings of greetings in 55 languages, 115 images and over 90 minutes of music and nature sounds — the Part-Time Scientists' disk can only hold so much considering that Wikipedia's English-language articles alone take up around 43 GB with just pages, according to a 2013 estimation. Images and other media on all of Wikimedia Commons take up a whopping 23 terabytes, according to an estimation from 2014.
"Roughly, [20 GB] would be something like the actual version of the German language Wikipedia (which contains about 1,126,319,271 words)," Wikimedia Deutschland spokesperson Jan Apel said in an email.
Because of this, the Wikipedia community needs to vote on which articles make the cut in a voting and refining process that'll take roughly six months. Community members are already discussing ways to select the articles, including having a "canon" of sorts, limiting the articles to one language and even showcasing the top 30 articles for every language. Wikimedia community members will start voting on June 3.