Prince Will Be Missed — And So Will His Masterful Shade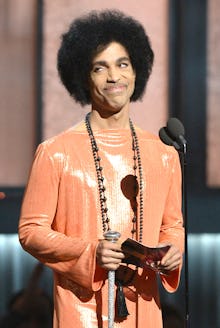 Prince, who died Thursday at the age of 57, was a legendary artist. And while he was known mainly for his enormous musical talent, there is another, more subtle art that Prince will be remembered for — his shade. 
As Dorien Corey defines it in the classic 1980s documentary Paris Is Burning: "Shade is 'I don't tell you you're ugly, but I don't have to tell you, because you know you're ugly.' And that's shade." 
Prince's shade often came without words. With a mere look, he could convey immense disapproval, like when Alicia Keys hopped up onto a piano during a Prince tribute at the 2010 BET Awards. 
Or Prince's wordless review of Trey Songz's segment of that same musical tribute:
Like the infamous side eye at the Grammys in 2015 before he announced that albums "like books and black lives" matter. 
Or when he famously stayed silent at the 1995 American Music Awards when handed a mic during a performance of the multi-artist collaboration "We Are the World," a charity single that Prince famously declined to join. Instead, he offered Quincy Jones some of his lollipop. 
And sometimes, Prince did speak that shade. Like when he made this comment on The Tavis Smiley Show about people who lip sync:
Prince also may have been the only person in the world cool enough to throw Kim Kardashian off a stage. Because she wasn't dancing to his song, she had. to. go. 
Prince taught the world that you don't need a lot of words to throw shade. When Lil' Mo wrote a lengthy Instagram post slamming Prince for blocking a bathroom, Prince responded with only nine words: "I hope she know none of her clothes match."
So, Prince, what's the tea? 
Be quick, be cutting, be real, be shady. 
Thank you, Prince.