Prince Reportedly Treated for Drug Overdose Days Before Death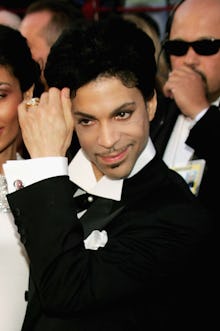 Prince was hospitalized just days before his April 21 death for a drug overdose — not the flu — according to TMZ. 
The gossip site reported that when the "Purple Rain" singer's jet made an emergency landing last Friday, he was rushed to the hospital and given a shot typically given to those experiencing an opiate overdose. On Friday, TMZ reported that the drug in question was the powerful painkiller Percocet. Doctors apparently advised 57-year-old Prince to stay in the hospital for 24 hours, but when he left after just three hours, a TMZ source said "he was not doing well."
The music icon's representatives said at the time he was battling the flu. 
The 911 transcript from the morning of Prince's death reveals that there was confusion at Prince's Paisley Park estate, where he was found dead in an elevator. One caller was unclear of the home's address and simply said they were "at Prince's house," according to the Associated Press.
Authorities have not released an official cause of Prince's death. An autopsy is scheduled for Friday, the AP reported.
Read more: 13 Rare Quotes From Prince Allow the Legend to Tell His Story In Own Words
April 21, 2016, 9:40 p.m.: This story has been updated.