The NBA Just Took Its Boldest Stand Yet Against North Carolina's Anti-LGBT Law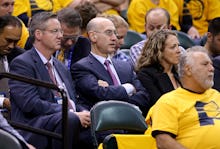 NBA Commissioner Adam Silver told reporters Thursday that a change in North Carolina's anti-LGBT law would be "necessary" for the league to keep the 2017 All-Star Game in Charlotte.
"We've been, I think, crystal clear a change in the law is necessary for us to play in the kind of environment that we think is appropriate for a celebratory NBA event," Silver said, according to the Associated Press.
Silver has been hinting at a North Carolina boycott for some time now. This week's announcement represents his clearest stance yet on how the law will impact league business if it remains in place.
Silver declined to give a timeline for a decision from the NBA. But he maintained that he was "working very closely with the business community down there and the governor and the legislature" to enact a change, and has faith "they're going to do the right thing," ESPN reported.
North Carolina's anti-LGBT law has made the state a hotbed for controversy since day one. In March, Gov. Pat McCrory signed a bill that blocks local municipalities from passing anti-discrimination legislation that protects LGBT people. The law also requires transgender individuals to use public restrooms in accordance with the gender listed on their birth certificate rather than their gender identity.
spoken out against the law, with some declining to do business in North Carolina while it remains in place. The governors of New York and Minnesota have both banned nonessential travel to the state.
The Center for American Progress estimates such boycotts could cost the state more than $567.5 million in economic activity through 2018.
Losing NBA All-Star Weekend would be a big deal for Charlotte. The annual celebration of professional basketball's greatest and most popular talents has proven a boon to local economies in the past. In 2014, the event generated $106.1 million in economic activity in New Orleans, according to the NBA.
Commissioner Silver is under no illusion that an All-Star boycott in North Carolina will solve everything. The NBA's Charlotte Hornets franchise still plays there, after all.
"[Whatever] we do, we have to keep an eye on the fact that we have one of our 30 franchises operating in that state,'" he said, according to ESPN. "We have a much bigger issue in North Carolina than the All-Star Game: It's the ongoing operation of our team."
Regardless, Silver's decision is part of an encouraging pattern among leaders in entertainment, sports and business — all of whom are using this opportunity to take an important stand against bigotry.