8 Options for Dog Lovers Who Aren't Ready to Adopt a Dog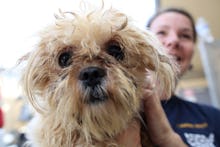 Dogs are awesome, that's pretty much a fact. They're lovable, nonjudgemental, and usually they're great at cuddling. But dogs are also a lot of hard work and responsibility, and adopting one is a long-term decision that definitely shouldn't be taken lightly.
So if you can't adopt a dog because you don't have the space, or the time or the money or your life isn't stable enough for a little fur-baby, here are some ways to enjoy spending time with dogs until you're ready to take the leap.
1. Dog-sit
Dogs are kind of like babies: Caring for one full-time is a ton of work, but watching one for the weekend is a lot less stressful. Offer to dog-sit for friends who have dogs, or sign up through a service like Rover or Dog Vacay to dog-sit for money. Getting paid to hang with dogs? What could be better than that?!
2. Volunteer at a shelter
Check with a local ASPCA or another shelter to see if they have any volunteer opportunities. You may be able to help by exercising the rescue dogs or working adoption events.
3. Foster a dog
Lots of shelters need foster families to care for rescue dogs while they wait for adoption. It's a great way to help out and see what it's like to care for an animal before making a permanent commitment.
4. Become a dog-walker
If you want hanging out with dogs to be your job and your passion, offer your services as a dog-walker in your neighborhood or sign up with a service like Wag. 
5. Volunteer with Puppies Behind Bars
Puppies Behind Bars gives prisoners the opportunity to train and service dogs for veterans with PTSD. The organization seeks volunteers who can take in pups on the weekends to socialize them to life beyond prison walls, or foster them until they find a permanent home.
6. Work in a doggy daycare
Spend all day with dozens of dogs and you probably won't feel like you aren't getting enough dog in your life. 
7. Train a future guide dog
Before guide dogs turn pro, they're cute little puppies who need to be taught all about the world. Organizations that train guide dogs for people who are visually impaired, like Guiding Eyes for the Blind, need "puppy raisers." 
8. Hang out at a dog park
When all else fails and you're still craving that doggy love, just go lurk at a dog park until you make a furry friend. And in cities that frown upon non-owners creeping in dog parks, check to see whether parks offer off-leash hours where you can snuggle someone else's dog. Just be cool about it and, ya know, ask first.