The Cast of Broadway's 'The Color Purple' Pays Tribute to Prince With "Purple Rain" Cover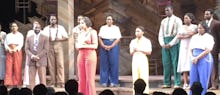 Tributes to the late, beloved Prince continue to pour in, from artists he inspired to the leader of the free world.
But Thursday night on Broadway, one musical's cast paid homage in their own way: through song.
After their curtain call, the cast of The Color Purple performed a cover of "Purple Rain."
"He said his music will live on and he will live through his music," The Color Purple star Jennifer Hudson said. "So we want to keep him alive today with a song."
What followed was pure church: Stars Hudson and Cynthia Erivo channeled the pain of Prince's death and the joy of his life into every note. Hudson lead the crowd as they joined in, removing her jacket in the heat of the moment.
"That means you too, as Prince would say!" Hudson commanded of the emotional crowd. "I know y'all know the song."
The Color Purple wasn't the only Broadway show paying tribute last night, either.
One street over, the cast of Hamilton also performed in honor of the late singer after curtain call.
If Prince was right — if he does live on through music — he was very much alive on the Great White Way last night, thanks to these performances.
Read more: Watch Jennifer Hudson Perform "Push Da Button" From 'The Color Purple' on 'The Late Show'